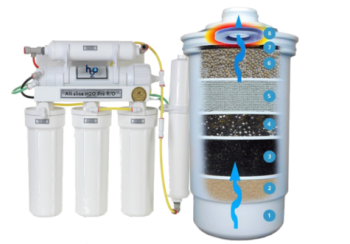 6 Stage Under the Counter Water Filtration System
Water filter/ionizer "on tap" …  The water filter that turns your ordinary tap water into an ocean of antioxidants!
You and your family deserve the best and can now begin experiencing the luxury, and convenience of having filtered, conditioned water at every faucet throughout your entire home. Your water will smell better, taste better, feel gentler on your skin, and provide you with peace of mind that you are drinking cleaner, healthier, more delicious water. USA Water Quality has the answers you seek for solving your water concerns. We are a company that esteems integrity and has a reputation for manufacturing high-quality equipment that requires minimal maintenance and is backed-up by strong warranties.  
New product
: Alkaline based R/O system, creates good tasting, energy drinking water.
It will save you a  lot of time and money
, no more buying expensive Alkaline bottled water.
Natural Mineral process
: this is much more natural re-structuring process . No more electric, it is  much safer to use.
Easy
to install, on any sink.
Easy  
filter changing, or cleaning process.
It is much cheaper
than the electric alkaline ionizer, everyone can afford one.
Reverse Osmosis
is the process by which ordinary tap water is forced through a semi-permeable membrane, leaving certain unwanted substances behind. These substances are rinsed away; producing clear, fresh tasting water. It is a process similar to that used to produce bottled water and is the most effective technology known to man for the improvement of drinking water today.
Material
% of Rejection
Aluminum
98-99
Ammonium
86-92
Arsenic
94-96
Barium
96-98
Bicarbonate
90-95
Bromide
87-93
Cadmium
96-98
Calcium
94-97
Chloride
93-97
Chromate
86-92
Copper
98-99
Cyanide
86-92
Ferrocyanide
98-99
Flouride
87-93
Iron
95-98
LEAD
96-98

Material
% of Rejection
Magnesium
96-98
Mercury
96-98
Manganese
95-98
Nitrate
60-75
Nickel
60-75
Phosphate
98-99
Potassium
87-94
Selenium
94-96
Silicate
85-90
Silver
93-96
SODIUM
87-93
Strontium
96-98
Sulfate
98-99
Sulfite
96-98
Thiosulfate
98-99
Zinc
98-99
Also Removes 85-90% of All Organics Including; THM's, PCB's, Pesticides, Herbicides and Benzene. 5 Year Warranty This Reverse Osmosis System is backed by a 5 year written warranty from the manufacturer which has over 30 years experience in the field of water treatment. Warranty does not include filter replacement or labor charges. Nominal Rejection Characteristics of Reverse Osmosis Membrane Call USA Water Quality today for your new Hydrate Alkaline R/O system.
760-219-6339